Invisalign: An Alternative To Metal Braces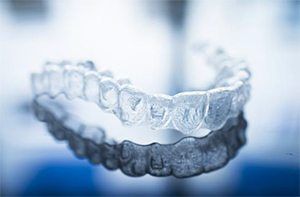 Unlike traditional metal braces, Invisalign clear aligners are used to correct a multitude of dental problems such as widely gapped teeth, overcrowding, or some combination of both
in an unnoticeable way. To start your Invisalign treatment, you will begin with a complimentary consultation with Dr. Robert J. Herman, who is an elite provider of Invisalign. He will determine if you are a suitable candidate and if this treatment is right for you. We suggest that you take this opportunity to ask any questions you may have including costs, insurance, and other concerns about the treatment.
Using x-rays and digital 3D imaging of your teeth, we will go over your treatment plan and discuss how your teeth will look and how long the treatment will last. Based on your individualized plan, a series of custom-made, clear aligners will be made specifically for you and for your teeth. The aligners are made of a BPA-free clear plastic that fits easily over your teeth for comfort and ease of wear.
Since Invisalign is designed to be removable, you can easily take them out to eat, to drink, and to brush your teeth. In order to clean your clear aligners, you can simply brush and rinse them in lukewarm water.
How Long Do I Have To Wear Invisalign?
Around every week, you will be given a new set of clear aligners that must be worn for 22 hours a day. This will ensure the fastest and best results possible throughout the Invisalign treatment process. We also suggest scheduling a follow-up appointment with Dr. Robert Herman every 12 weeks to see how your teeth are progressing.
The treatment may vary from patient to patient; however, we typically see that on average, it would take approximately 9 to 15 months. If you combine your Invisalign treatment with AcceleDent, it may be possible to reduce this time by 50%. Once the treatment is complete, you will need retainers to maintain your new beautiful and perfect smile.