5 Signs That You Need Invisalign®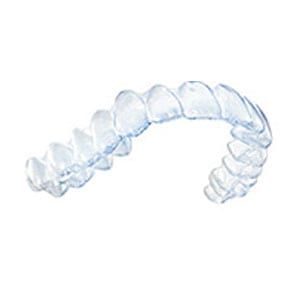 1. You're unhappy with your smile.
Quite possibly the best indicator of whether you should consider Invisalign is the way you feel about your smile. Have you made a habit of hiding your teeth, or smiling strictly with a closed mouth?
Invisalign can treat many orthodontic conditions associated with poor confidence. If you have a condition like crooked or crowded teeth, you may be seeking a straighter smile. For people who wonder, "Can Invisalign fix crowding," the answer is yes! With every new set of clear aligners, Invisalign is designed to shift your teeth closer to a healthy, beautiful alignment.
2. You want invisible braces.
Many people choose Invisalign for its practically invisible design. Invisalign clear aligners are made of a clear BPA-free plastic, custom-fit to your unique smile to appear as natural as possible.
Are you hesitant to sport a mouth full of metal braces? That's why we offer Invisalign for adults and teens who wish to undergo an undetectable treatment. No matter what your day holds (a job interview, a speech, or a sports game), Invisalign will secretly straighten your teeth throughout the day.
3. You have a poor bite condition.
Invisalign isn't just for cosmetic teeth straightening. In fact, Invisalign is highly effective at correcting maloclussions, or misaligned bites. You can use Invisalign for overbites, Invisalign for open bites, Invisalign for underbites, and Invisalign for crossbites.
Depending on the severity of your bite condition, you might require an Invisalign attachment for a more intensive and efficient treatment; regardless, Invisalign clear aligners are custom-fit to your teeth to shift the bite into alignment with accuracy and precision.
4. You're dedicated to your new smile.
Although the Invisalign design is highly effective, you play a major part in the effectiveness of your treatment too. One of the perks with Invisalign clear aligners is that they're removable. You can remove your aligners to eat, brush your teeth, floss your teeth, and drink anything other than water. With this perk comes the responsibility of placing your aligners back in your mouth each time you remove them.
Your aligners must remain in your mouth for at least 22 hours each day for your treatment to be as effective and efficient as it's designed to be. It's important that you keep your aligners in place throughout the day and night, applying the intended amount of pressure that ensures a successful treatment. If you're dedicated to a beautiful smile, Invisalign is a great option for you!
5. You have an Invisalign-treatable condition.
Your treatment will always depend on the exact condition of your teeth and the severity of your condition, but there aren't many conditions that Invisalign can't treat. If you have any of the following conditions, you may be an ideal Invisalign candidate.
Crowded teeth
Crooked teeth
Gapped teeth
Overbite
Underbite
Crossbite
Open bite
We are a highly experienced Top 1% Invisalign provider, meaning we've successfully treated over 900 cases with Invisalign! We've seen many conditions similar to yours!
So, if you're still wondering, "what can Invisalign not fix," it's best to come and see us for a free Invisalign consultation.
Try taking the Invisalign Smile Assessment for a better understanding of your condition, and if you still aren't sure whether you'll benefit from Invisalign treatment, don't hesitate to schedule your free exam with us or reach out to us with any questions.
Don't put it off any longer; start your journey with Invisalign today! Call/text (918) 492-4822 OR visit us online at https://superiorcareorthodontics.com/free-consult/ to schedule your FREE consultation!