Elite Invisalign Provider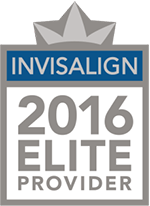 We are proud to announce that our Tulsa orthodontist, Dr. Robert Herman, has been awarded with the honor of being an Elite Invisalign Provider. Through his hardwork and dedication to his patients and staff, he is truly deserving of this recognition. Dr. Herman has shown amazing results and success with the Invisalign treatment, which is why he is the only orthodontist in the Tulsa area that is an Elite Provider. He accepts the most complicated cases that most doctors have refused to treat with the clear teeth aligners by taking in the necessary time to consult with each patient. As a result, Dr. Herman has become primary orthodontist for many residents in the surrounding Tulsa area.
What Does It Mean To Be An Elite Invisalign Provider?
Earning the title of an Elite Provider is not something that every orthodontist can achieve. In order to qualify as an Elite Invisalign Provider, an orthodontist is required to treat over 300 patients and conduct a minimum of 50 cases every six months. The experience and care that Dr. Herman has accomplished to be a distinguished orthodontist has allowed him to provide exceptional Invisalign treatment for all his patients.