Tulsa State Fair!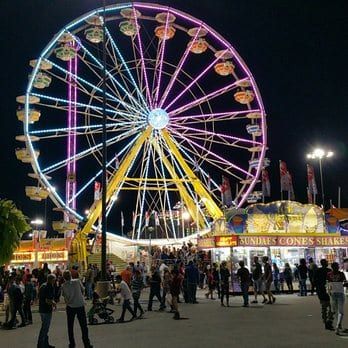 About Us
The Tulsa State Fair is the City's largest family event, providing educational experiences and entertainment during an 11-day span. Annually held on the fourth Thursday after Labor Day, this historical event is based upon heritage, family values and quality entertainment for all ages. It was first organized in 1903 as the "Tulsa County Free Fair" and developed into the Tulsa State Fair of today. With the goal of providing an educational and entertaining experience to the community, it has over 100 years of history and continues to stand out as one of the premier fairs in the country, with an estimated attendance of 1,150,000 million in 2017.
Mission
The Tulsa State Fair is Oklahoma's premier family event. It is our mission to preserve our heritage and continue tradition by creating an enriching educational experience, while providing fun family entertainment. With thousands of visitors each day, we are enthused to share this year's exciting attractions and thrilling rides. We look forward to seeing you at the Tulsa State fair, and hope you have an experience to remember.
Autism Friendly Location
The Tulsa State Fair is an official Autism Friendly Location.
The co-founders of a non-profit organization for families affected by autism recognized the need for families to get out into the community. There are numerous challenges families with autistic children face when entering an unfamiliar location. It becomes easier to stay home, although countless hours and financial resources are spent on therapies and treatments for these children in attempts to use the acquired skills in public. Meaning, taking the therapies from the home, school and centers and utilizing them in the community in order to gain the skills necessary to function as independently as possible. In order to facilitate this transition, a program was created to provide opportunities for families to be able to enjoy outings in an understanding environment. By bringing attention to autism and the needs of individuals and families, these individuals can put some of their worries aside, and feel confident that they are a welcomed patron, who is valued and accepted.
Autism is an "invisible" disability which poses challenges since individuals may not be recognized as such. Therefore, in order to bridge this gap, a brand of identification was created in hopes to spread a positive message while alerting others of the hidden disability. It is important for children with autism to have proper identification to help both families and businesses feel more comfortable and welcome in public places. Once other people are aware of an individual's disability, the more understanding and helpful they become.
For children with autism spectrum disorders, opportunity, consistency and repetition are the keys to learning to become acclimated to a new environment. Because generalization is difficult, a child with autism will need to spend time and explore each new environment and learn how to adjust. If wearing appropriate identification helps individuals with autism and their families gain a sense of understanding and support in the community, they can become less isolated and more independent. This is a win for the families and a win for the businesses.
OKLAHOMA STAGE
River Spirit VIP Section
Lineup:
Thursday, September 26, 8pm – Ben & Noel Haggard – $0
Friday, September 27, 8pm – Aaron Watson – $30
Saturday, September 28, 8pm – Ginuwine – $25
Sunday, September 29, 8pm – Coming Soon
Monday, September 30, 8pm – Coming Soon
Tuesday, October 1, 8pm – Coming Soon
Wednesday, October 2, 8pm – Coming Soon
Thursday, October 3, 8pm – Coming Soon
Friday, October 4, 8pm – Coming Soon
Saturday, October 5, 8pm – Coming Soon
Sunday, October 6, 8pm – Coming Soon
Details: Reserved section closest to stage with general admission
seating; ticket includes Gate Admission. All remaining seats are FREE with paid Gate Admission.
DISNEY ON ICE
Thursday, September 26

Friday, September 27

11:30am – $20, $25, $30, $35, $40
3:30pm, 7:30pm – $20, $30, $40, $45, $50
Saturday, September 28

11:30am, 3:30pm, 7:30pm – $20, $30, $40, $45, $50
Sunday, September 29

10:30am, 2:30pm, 6:30pm – $20, $30, $40, $45, $50
Reserved Seating
Gate Admission
Ticket Prices:
Adult: $12
Youth (5 – 12): $8
Seniors (62+)*: $8
Military*: $8
Children (Under Age 5): FREE
*must present valid ID
On Sale: Entrance Gates Only
MEGA RIDE PASS
Ticket Price:
August 1 – September 29: $70
Location:
4145 East 21st Street, Tulsa, OK 74114