Types of Braces
Quality Treatment From Your Tulsa, OK Orthodontist
For a majority of orthodontic patients, braces have been commonly used in various treatment plans to correct teeth and jaw misalignment. The traditional, bulky metal hardware has evolved and is no longer considered the only orthodontic appliance offered to straighten teeth. With our advanced technology, the standard braces have become smaller and less noticeable to others, so that you can feel comfortable showing off your smile.
At Dr. Robert Herman's office, we understand that every patient is different and as a result, their needs are different. We offer a variety of braces styles such as removable or fixed appliances to best suit your individualized treatment plan.
Traditional Metal Braces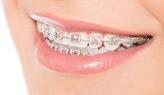 Traditional metal braces are the most common and widely used fixed appliance among orthodontic patients. Typically made of a high-grade stainless steel, they consist of metal bands that surround the back molars and small metal brackets that are cemented to the front of the teeth. A thin wire runs through the brackets and guides the teeth into its proper position. Usually, these wires are fixed by elastic ties or other types of ties. Metal braces have become popular due to its durability and effectiveness for straighter teeth.
Self-Ligating Braces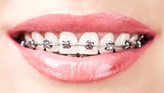 Self-ligating braces are made from the same material as traditional metal braces, but do not require the use of elastics. This fixed appliance utilizes a "sliding door" technology that allows the wire to slide back and forth within the bracket, which creates less friction being placed on the tooth. As a result, it provides ease of wear and better comfort. Self-ligating braces can be made of traditional metal, ceramic, or clear brackets. Since there is no need for elastics, it requires fewer adjustments and reduces the treatment time.
Ceramic Braces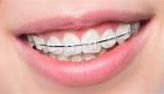 Ceramic braces are a variation of the traditional metal braces except the brackets are made of a translucent ceramic material that blends in with the natural color of your teeth. Due to its subtlety, ceramic braces have become popular for its aesthetic appeal. Although they are less noticeable, they do require more attention to oral hygiene since they can be more brittle and less durable than their metal counterparts.
Invisalign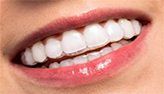 Invisalign is a series of removable clear aligners that are custom made through computer simulation to gradually move your teeth. This system is available to adults and teens who do not want to be limited by food restrictions that traditional metal braces have. Since the aligners are removable, they are more comfortable and do not cause mouth abrasions due to the lack of brackets. Invisalign has been growing in popularity since the aligners are virtually invisible and can easily adjust to an active lifestyle.
Visit Our Tulsa Orthodontic Office
If you're unsure which type of braces is right for you, contact us or fill out our online appointment form to schedule an appointment with Dr. Herman. We offer our orthodontic services to patients in Tulsa, OK and in surrounding areas such as Henryetta, Pryor, Bartlesville, and Vinita, OK. Our staff will get you the treatment that you need, so that you can walk out feeling confident with your smile.